FIRENZE ACADEMY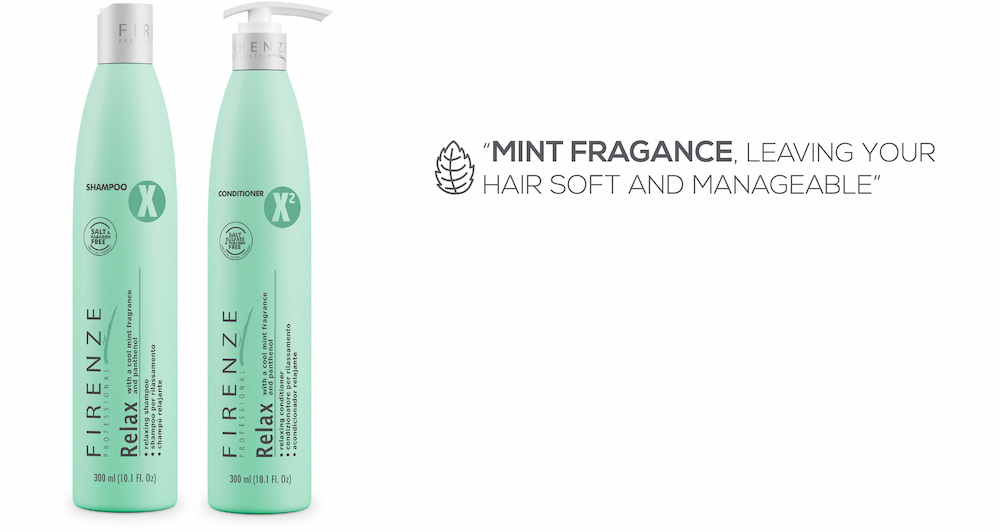 HAIR TYPE
With a mint and eucalyptus base, Relax products provide a pleasant and relaxing experience for the senses, while also reducing fat accumulated in the scalp due to their deep cleaning properties, which leave hair soft and more manageable. Daily use is advised because of its perfect combination of natural extracts, hydrating components and cleaning properties that prevent excessive dryness of the scalp.
1.
SHAMPOO
300 ml (10.1 Fl. Oz)
1000 ml (33.8 Fl. Oz)
2.
CONDITIONER
300 ml (10.1 Fl. Oz)

• It works as a moderate astringent shampoo on the scalp.
• Leaves a pleasant and refreshing sensation, due to its eucalyptus-enriched formula.
• Provides a balancing conditioning effect, with its panthenol enriched formula.
• Conditions the hair strand with Panthenol, while providing a pleasant and clean sensation, due to its eucalyptus enriched formula.
• Helps to control the problem of oiliness in the hair.
• Does not leave the hair feeling greasy.
WARNING: Follow directions for use. Discontinue its use if negative reactions are observed. Keep out of reach of children. Avoid contact with eyes. In case of accidental contact, rinse with abundant water. Consult a physician. For external use only.
All our product lines have been fully formulated and developed by a team of expert professionals and stylists looking for chemists to tailor products to each market and fashion consultants to reinvent hair care and take it to the next level.