FIRENZE ACADEMY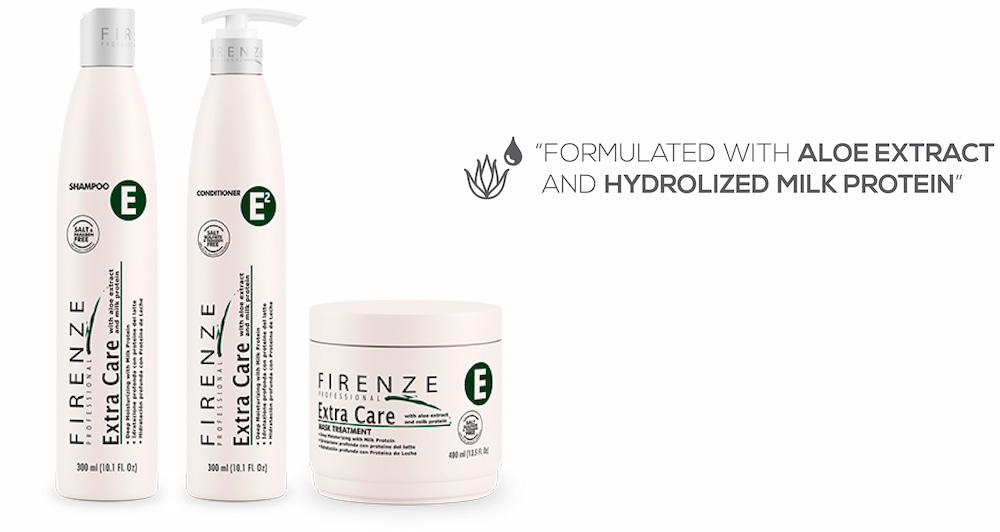 HAIR TYPE
Extra Care products provide an optimal balance of nutrients. Amongst its main active ingredients there's hydrolyzed milk protein that supplies better nourishment for hair, while conditioning and hydrating the strand, thus reducing capillary dryness with its continuous use.
1.
SHAMPOO
300 ml (10.1 Fl. Oz)
1000 ml (33.8 Fl. Oz)
2.
CONDITIONER
300 ml (10.1 Fl. Oz)
1000 ml (33.8 Fl. Oz)
3.
TREATMENT
400 ml (13.5 Fl. Oz)
1000 ml (33.8 Fl. Oz)

• Contributes to maintain an excellent balance of nutrients, thanks to its formula enriched with hydrolyzed milk protein.
• Enhances the strands body, leaving hair more manageable, and healthier looking.
• Conditions, untangles and leaves hair with a silky feel.
• Helps to keep hair properly hydrated, giving it a healthier appearance.
• Provides optimal hydration and nourishment to dry and/or brittle hair.
• Rebuilds hair that has been damaged due to chemical processing or harsh weather.
• Can be used with or without a hat.
WARNING: Follow directions for use. Discontinue its use if negative reactions are observed. Keep out of reach of children. Avoid contact with eyes. In case of accidental contact, rinse with abundant water. Consult a physician. For external use only..
All our product lines have been fully formulated and developed by a team of expert professionals and stylists looking for chemists to tailor products to each market and fashion consultants to reinvent hair care and take it to the next level.