FIRENZE ACADEMY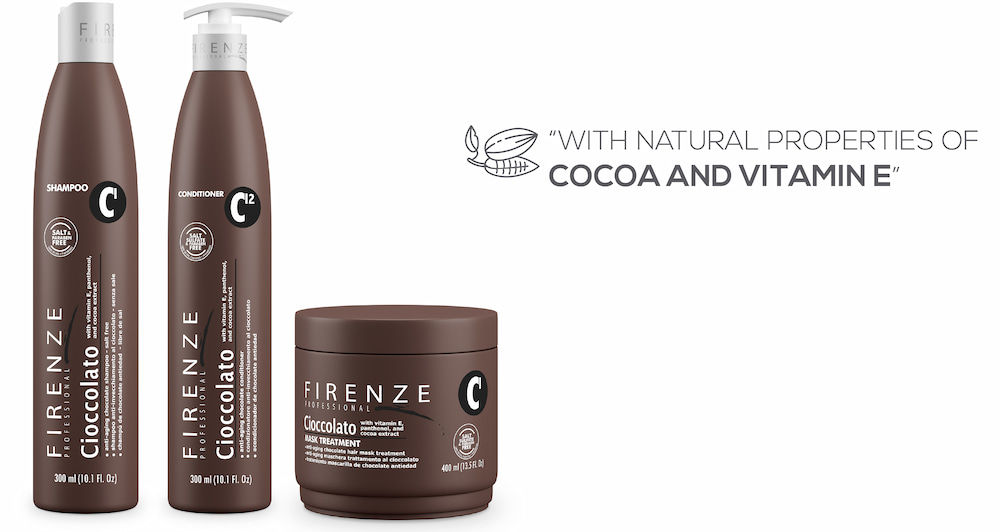 HAIR TYPE
The main ingredient in all Cioccolato products is cocoa extract, which is one of the most effective natural antioxidants. Thus, they are an excellent choice for an anti-aging treatment of capillary structures. Its regular use stimulates blood circulation, which revitalizes hair, giving it a natural sheen, softness and volume. They also contain vitamin E that ensures maximum hydration and intense nourishment for damaged, dry or dull hair.
| | | |
| --- | --- | --- |
| 1. | SHAMPOO | 300 ml (10.1 Fl. Oz) |
| 2. | CONDITIONER | 300 ml (10.1 Fl. Oz) |
| 3. | TREATMENT | 400 ml (13.5 Fl. Oz) |

• Formulated with cacao extract that deeply hydrates and gives hair a silkier feel.
• Contains Vitamin E, which works as a capillary anti-oxidant, preventing hair damage due to oxidation.
• Especially formulated for dry and brittle hair.
• Deeply hydrates leaving hair extremely soft.
• Contributes to prevent the hair strand from becoming to dry and/or brittle.
• Contains vitamin E and antioxidants which slow down aging and oxidation.
• Hair mask formulated with cacao extract which is easily absorbed.
• Softens and nourishes hair deeply to prevent dry, brittle and dull hair.
• Can be used with or without a hat.
WARNING: Follow directions for use. Discontinue its use if negative reactions are observed. Keep out of reach of children. Avoid contact with eyes. In case of accidental contact, rinse with abundant water. Consult a physician. For external use only.
All our product lines have been fully formulated and developed by a team of expert professionals and stylists looking for chemists to tailor products to each market and fashion consultants to reinvent hair care and take it to the next level.