FIRENZE ACADEMY



HAIR TYPE
The Two Point Five Treatment is an acid pH treatment that helps balance the pH of the hair after having applied alkaline chemical treatments. It maintains, protects, and enhances results, while deeply nourishing and softening the hair strands. The pH stabilizing spray seals the hair cuticle, leaving it healthier and shinier.
| | | |
| --- | --- | --- |
| 1. | TREATMENT | 251 ml (8.5 Fl. Oz) |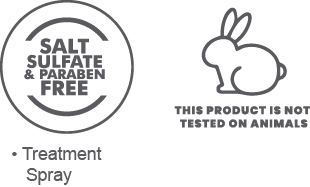 • Balances hair and scalp pH after a chemical procedure.
• Seals the hair strand, allowing dyeing or chemical procedures to last longer.
WARNING: Follow directions for use. Discontinue its use if negative reactions are observed. Keep out of reach of children. Avoid contact with eyes. In case of accidental contact, rinse with abundant water. Consult a physician. For external use only.