FIRENZE ACADEMY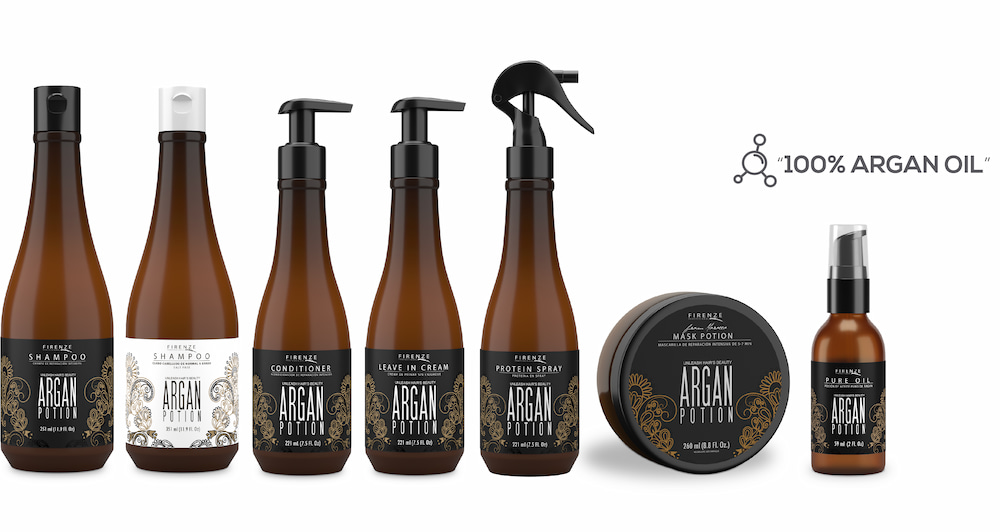 HAIR TYPE
ARGAN POTION products are characterized by their main ingredient, Argan oil, which is extracted from the kernels of the tree "Argania spinosa", better known as the Tree of Life.
1.
NORMAL TO GREASY
HAIR SHAMPOO
351 ml (11.9 Fl. Oz)
2.
DRY HAIR SHAMPOO
351 ml (11.9 Fl. Oz)
3.
CONDITIONER
221 ml (7.5 Fl. Oz)
4.
LEAVE IN CREAM
221 ml (7.5 Fl. Oz)
5.
PROTEIN
221 ml (7.5 Fl. Oz)
6.
TREATMENT
260 ml (8.8 Fl. Oz)
7.
PURE OIL
59 ml (2 Fl. Oz)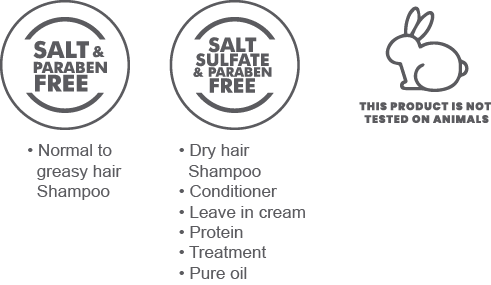 • Balances the secretion of fats or oils on the scalp while nourishing hair tips.
• Its salt free and nutrient rich formula prevents hair dye oxidation, in addition to helping other chemical processes last longer.
• Perfect for continuous use, as it provides deep cleansing of hair without damaging it.
• Uses natural antioxidants from Argan oil to repair and nourish the strands.
• Recommended for dyed hairs, sensitive scalps or people who tend to lose hair.
• This shampoo softly cleans and provides unparalleled shine and hair elasticity.
• Achieves a balance between humectation and hair nutrition with essential oils that penetrate hair root.
• Continuous use repairs strand from the inside, achieving natural softness and increasing hair shine.
• Keeps dyed and/or keratin treated hair healthy.
• Hydrates, seals and conditions the strand, restoring hair shine and softness.
• Especially designed to protect hair from thermal styling tools.
• Eliminates frizz, leaving hair naturally soft.
• Enriched with Argan oil, strengthens hair and acts as an antiaging agent.
• Makes combing easier, unraveling even the most rebel hair.
• Perfect for eliminating frizz.
• It is and intensive repair mask treatment that combines Argan oil with Pro-Vitamin B5 to restore hair shine.
• Strengthens hair protein links, enhancing strand resistance and keeping the cuticle sealed.
• Control frizz, protecting from humidity by forming a hydrophobic barrier.
• Fast absorption, doesn't leave a greasy hair.
• Softens and conditions hair making it more manageable.
WARNING: Follow directions for use. Discontinue its use if negative reactions are observed. Keep out of reach of children. Avoid contact with eyes. In case of accidental contact, rinse with abundant water. Consult a physician. For external use only.
MEET OUR HAIR POTION LINES
All our product lines have been fully formulated and developed by a team of expert professionals and stylists looking for chemists to tailor products to each market and fashion consultants to reinvent hair care and take it to the next level.